< Back
Philip Cheeter
Director of Sales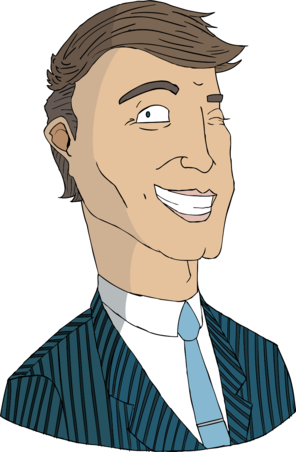 | | |
| --- | --- |
| Name: | Philip Baltimore Cheeter |
| Position: | Director of Sales |
| Birthday: | February 14th (Valentine's Day) |
| Nationality: | American |
| Email: | philip.cheeter@delavignecorp.com |
| Marital Status: | Single, and ready to mingle |
| Favorite Song: | What's New Pussycat? |
| Cocktail of Choice: | GHB and Red Bull |
| Hobbies and Interests: | Women, Girls, Ladies, Gals, Dames, Skirts, Females, Cars, Babes, Broads, Chicks, Sales, Parties, Yahtzee |
Biography
Born to an exotic dancer named 'Ecstasy' and a hot-dog vendor named Larry, Philip Cheeter has always been divided between his passion for romance and his devotion to sales. According to his mother, 'Can I buy you a drink?' were Philip's first words. This question soon became one of Cheeter's favorites, a sort of mantra which he repeats to this day. At the same time, Philip developed a talent for sales while traveling door to door with his father and selling first hot dogs, then toasters, and eventually insurance policies.
After finishing his studies, Philip took a sabbatical year to visit South East Asia. It was during this time that Philip first met Bruno Delavigne on the white sand beaches of Phuket. Bruno had been spelunking in the nearby caverns, and Philip had been 'researching' the native ladyboy population. The two felt an instant connection.
When Philip returned to the States, he landed an entry level position in Delavigne's sales department. After 6 months of record sales, Philip was awarded the position of director, which he has held ever since.
Philip's flirting has become legendary at the office, where female interns are warned in advance of Philip's presence. Despite Philip's reputation for womanizing, he is generally well liked by his colleagues, (with the exception of a certain Susan Bliss), and respected for his dedication to the team. Philip is currently single.
Memorable Quotes
Philip Cheeter's the name, sales are my game.

Ha ha hey.

The public loves us Susie, especially me.
Fun Facts
Philip is Delavigne's number one salesman, having exceeded his total sales every year since he arrived at the company.
Philip has been chasing after Susan Bliss for years in the hopes of winning a date with Delavigne's marketing director.
Philip has teamed up with Horatio Oléré on numerous occasions in the pursuit of tormenting company accountant Icarus Quincy.
Philip is indirectly responsible for the Delavigne Corp's new policy on interns informally titled: 'Don't touch the interns, Philip'.
Philip was voted 'Most likely to contract hepatitis' by his high-school classmates.