< Back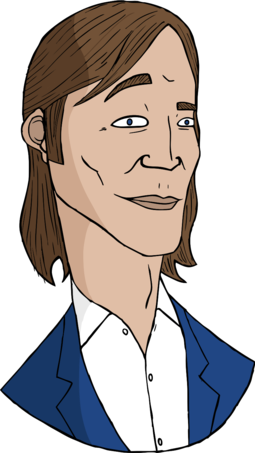 | | |
| --- | --- |
| Name: | Bruno Xavier Delavigne |
| Position: | President and CEO of the Delavigne Corporation |
| Birthday: | July 14th |
| Nationality: | American & French (Dual Citizenship) |
| Email: | bruno.delavigne@delavignecorp.com |
| Favorite Music: | American Jazz, Gypsy Music, Punk Rock |
| Pets: | Stink (dog) |
| Cocktail of Choice: | Whiskey (on the rocks with a straw) |
| Hobbies and Interests: | Bungee Jumping, Scuba Diving, Piloting Helicopters, Crossword Puzzles, Russian Roulette, Tango, High-powered Business Negotiations, Dutch Literature, Chinese Checkers, Transcendental Meditation |
Biography
Bruno Delavigne learned the art of perfume making at a young age from his grandfather Xavier while living in the Montmartre district of Paris. After witnessing his grandfather's tragic death in an unfortunate fragrance-related explosion, Bruno vowed to honor Xavier's memory by becoming a perfumer. It was during these early years that Bruno suffered a terrible accident himself in which he lost the use of his nose.
Despite this, he persevered and after years of blood, sweat and tears, Bruno eventually expanded his grandfather's tiny shop into the Delavigne Corporation: one of the leaders in the high-stakes world of cosmetics and beauty products. Bruno was helped by his best friend and confidant Horatio Oléré in this endeavor, and to this day the two are inseparable.
Bruno, whose romantic status remains murky, divides his time between San Francisco and numerous other exotic locales. He takes an active role in the continued development of his business but make sure he pursues his other passions in life.
Bruno travels regularly, loves interacting with his San Francisco-based staff, and has recently taken up surfing. Bruno can be found every year in Pamplona for the infamous running of the bulls. Bruno is also an avid supporter of environmental causes and charities. He is particularly dedicated to promoting awareness of fragrance fire prevention.
Memorable Quotes
Let's get down to business.

Now please leave me, I must meditate like the enlightened Buddha.

We can't have monkeys running all over the place!
Fun Facts
Bruno is trained in the Wu-Tang style of Kung Fu, having studied with monks in the Guangdong region of China.
Bruno has an older brother named Felix. The two are on bad terms and speak once every four years.
Bruno once swam the English channel after being challenged by a drunk schoolmate. He managed to get to Calais despite sub-zero temperatures and shark-infested waters.