< Back
Susan Bliss
Director of Marketing and PR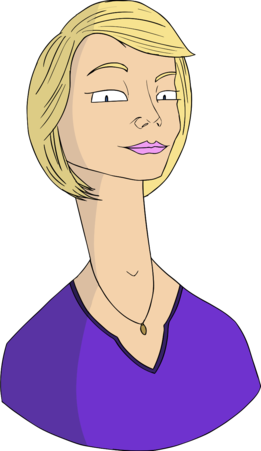 | | |
| --- | --- |
| Name: | Susan Elizabeth Bliss |
| Position: | Director of Public Relations, Head of Marketing Department |
| Nationality: | British |
| Email: | susan.bliss@delavignecorp.com |
| Relationship Status: | It's Complicated |
| Favorite Films: | Dirty Dancing, Flashdance, Fame, Grease, Pretty Woman,The Bodyguard, Pump up the Volume, Mary Poppins |
| Favorite Song: | Summer Love |
| Cocktail of Choice: | Tea, Zima, Tab, Slippery Nipple, White Russian |
| Hobbies and Interests: | Whispering, Fashion, Crumpets, Man-hating, Public Speaking, Getting Jiggy with it (within reason), Bruno Delavigne, Correcting Typos, Being Sexy, Playing Hard to Get, Changing American Spelling to British Spelling, Shoes |
Biography
Susan Bliss is no stranger to overachieving. Her father, Sir Thomas Autumnbottom Bliss, was a British colonial who explored the safaris of Africa with a large hat and an elephant gun. Susan's mother, Marie Bliss (née Poppington) was no less of a superstar: a governess known for her quirky songs and ability to fly using only an umbrella. It seemed that right from the start, Susan was destined for greatness.
Susan has always had a knack for seduction and a gift for the art of persuasion, perhaps this is what attracted her to marketing, in which seducing a key demographic is of the utmost importance. In any case, Susie's talent for marketing and PR is perhaps second only to her talent for karaoke, a passion which Susan indulges in every weekend in San Francisco's Chinatown neighborhood.
Around the office, Susie is the very definition of professional, though she also excels in being sexy, efficient and making tea. Susan is well regarded in the world of marketing, and she is a role-model for many young children looking to get started in the cutthroat industry.
Susan enjoys the ambiance of the Delavigne offices and was recently overheard making a joke. Susan has several close friends at work, but none closer than Bruno Delavigne, with whom she shares an intense and purposefully ambiguous relationship.
Memorable Quotes
You know my reputation, all work and no play.

Please don't be ridiculous!

Hey Cheeter, I can slap you in the face if you want!
Fun Facts
Susie is an accomplished debater, and once won the junior national debate championship for her defense of blind airplane pilots.
Susie has filed several restraining orders against co-worker Philip Cheeter, with limited success.
Susie is an excellent public speaker, and practices her speeches in front of the mirror every morning.
Susie never waits in lines or pays for her own drinks, particularly at night clubs and bars.
Susie can play the solo from Frère Jacques on the flute.