< Back
Xavier Delavigne
Founder of Parfumerie Delavigne, Bruno's Grandfather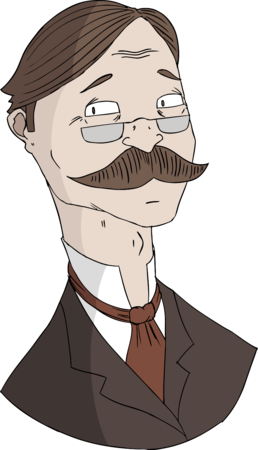 | | |
| --- | --- |
| Name: | Xavier Delavigne (deceased, 1905-1981) |
| Position: | Founder of Parfumerie Delavigne, Bruno's Grandfather |
| Birthday: | July 15th |
| Nationality: | French |
| Favorite Food: | Soup (hot), Bread, Sausage |
| Cocktail of Choice: | Wine (red, white and pink) |
| Nicknames: | The Father of Fragrance, Old Man Perfume, Sausage Dude, The Crazy Drunk Guy, Xav the Sav, SoupEater@DelavigneCorp.com |
| Hobbies and Interests: | Liberty, Equality, Dancing on Laboratory Floor, Fraternity, Petanque, Paris, France |
Biography
Xavier Delavigne made a name for himself on the streets of Montmartre at the turn of the 20th century, distilling and selling perfumes to feed his family. Xavier was well known in his neighborhood both for his penchant for sausage and his drunk tales of the Foreign Legion. However Xavier's trademark was dancing on his laboratory floor, which he did usually just after opening his laboratory door.
Young Xavier quit school at an early age to concentrate on perfume making full time. With the help of an old Polish man living in the street, Xavier quickly discovered that he had a talent for mixing original scents. By selling his homemade perfumes to Can Can dancers in local cabarets and bordellos, Xavier eventually gathered enough money together to put a down payment on a boutique. Already with a wife and young child, Xavier was determined to succeed, and succeed he did... until he died horribly in a fragrance fire.
Today, Xavier's name is known worldwide, thanks to the work and dedication of his beloved grandson, Bruno Delavigne, who trained under Xavier in his Parisian boutique. Despite his success, Bruno has never lost sight of of his grandfather's values. Though Bruno's clientele is no longer composed entirely of prostitutes and dancers, Bruno has done his best to remember his roots and Xavier's vision.
The Delavigne Mission Statements
I am dedicated to the ideal that all fragrances are not created equal, and I am determined to prove this by creating only superior products using the freshest ingredients. I believe that every person has the right to smell good, whether you are the prince of Monaco or a Polish person... Please pass me the sausage now.
The Delavigne Corporation is inspired by the vision of Xavier Delavigne, who believed that every person, no matter if they are tall, small, wide, thin, rich or Polish, has the right to smell good. Today, Delavigne Corp perfumes continue to adhere to Xavier's standard of excellence, combining Xavier's French touch with a bit of good old-fashioned American capitalism.