< Back
Radio Rhubarb
Check your local listings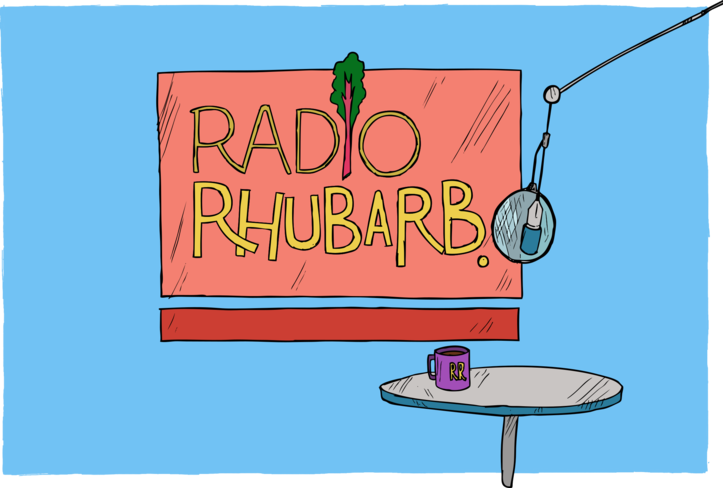 Description
Radio Rhubarb is an international radio station, based in San Francisco, but broadcasting its original programs worldwide. Radio Rhubarb was started based on the belief that all news is funny, even bad news.
Popular Segments Include
The headlines with hosts Brent Vanderplop and Moira MacDonald
The Weather report with Candy Summers
Traffic updates with Ray Upton
The Call Donna Program with Dr. Donna Donovan
Australian/Animal Correspondent Stephanie Irving
European Correspondent Rupert Kensington
Memorable Quotes
Radio plus Rhubarb equals Radio Rhubarb

Today we have a very special topic: dinosaurs.

What an uplifting story Brent, thanks for sharing that with us.

Stay tuned, because next we'll meet a little girl who taught a parrot how to rap!
Fun Facts
Mathematicians are currently still trying to prove the validity of the equation 'Radio plus Rhubarb equals Radio Rhubarb'. So far their tests have proved inconclusive.
Radio Rhubarb traffic reporter Ray Upton works closely with his helicopter pilot, personal trainer and brother-in-law, Rachid. Rachid's last name is unknown.
The Call Donna Program, Radio Rhubarb's most popular call-in program, is the number one advice show among unemployed female listeners aged 25-46.
Radio Rhubarb co-anchor Moira MacDonald was a champion ice dancer in her youth, and once took second place in Scotland's National Lumberjack competition.
Brent Vanderplop, Radio Rhubarb newsman, has eleven fingers.